Ah, the elusive balanced assessment system. As educators and administrators, we all talk about it, we all want it, and yet—what does it look like? As you can imagine, here at Measured Progress we've been doing a lot of thinking about what makes a "good" assessment system, and what the future may look like.
When we talk with state and district staff about their assessment needs, we often find that the discussion doesn't become productive until we've spent some time defining our terms. We might find that some of us are saying "benchmark" to describe what others call "interim." Or we hear other terms, such as "periodic," "through-course," and "predictive."
To help clarify the conversation, we created an infographic that defines the 4 main components of a BAS:
Formative assessment practices
Benchmark assessments
Interim assessments
State accountability assessment
This is the first of a series of posts in which we'll expand on those definitions. You can find our complete vision of a balanced assessment system, along with some other helpful terms, on our infographic.
What are Interim Assessments?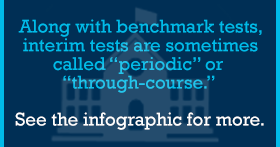 By our definition, interim assessments are general achievement measures—meaning they cover the full year's standards. (In our terms, this is a major difference from benchmark assessments, which cover recently taught material.) Typically chosen at the district level, interim assessments—such as our new eMPower Assessments—are administered at several points during the school year. They're used to monitor students' progress toward standards or growth, to show whether students are on track for what they're expected to learn during the year.
Educators may refer to interim tests as "predictive," because they can be used to predict students' performance on end-of-year tests. Comparing actual end-of-year performance to predicted performance is one way of evaluating academic progress or growth during the year.
What do Interim Assessments Tell Us?
Results of interim assessments may serve multiple purposes at student, school, and district levels. Since they represent a sampling of the full year's standards, teachers can use them to determine a student's progress toward achieving end-of-year goals. When students, either individually or as a group, don't show as much progress as expected, the tests provide "early warning" of areas of concern—either for teachers to identify individual students, or for schools and districts to flag areas of the curriculum that students are not grasping. The results should help inform instruction in the short term, and help make program decisions in the longer term.
New Uses for Interim Assessments
As a result of the Every Student Succeeds Act (ESSA), and of a nationwide trend toward achieving balance, consistency, and reasonableness in assessments, some states have begun looking for interim assessments that integrate with and provide data for statewide assessments. (The ESSA, in its use of the term "interim," doesn't make a clear distinction between interim and benchmark assessments, and could mean either as we've defined them.) Such integration supports consistency in standards assessed and promotes coherence of results across within-year and end-of year tests.
Ideally, as these states have realized, interim assessments should be based on the same standards that are assessed in a state's accountability assessment program—and these should be the same standards that guide and structure the curriculum and instruction in classrooms. For teachers and students alike, this consistency and balance result in better use of classroom and assessment time, allow educators to focus on what students really need to learn, and—most importantly—provide useful information that improves teaching and learning.