Effective classrooms. Engaged students.
At AdvancED | Measured Progress, we believe—as research has demonstrated—that students who attend schools that show high levels of engagement and healthy cultures demonstrate significantly higher performance than students at other schools. In other words, increasing student engagement is key to achieving improved outcomes for students.
Teachers and their instruction are fundamental factors in student engagement. But classroom observations that focus first on teacher performance overlook important information. To gain insight on whether a classroom fosters student engagement, the focus should be on how students respond in school.
AdvancED has developed the Effective Learning Environment Observation Tool®, or eleot®—a tool for educators to use in their schools (or for certified external teams to use) to objectively examine what students experience in their classrooms.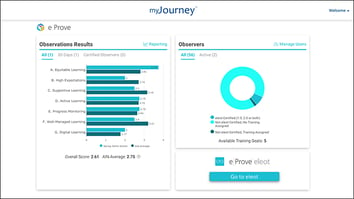 This tool defines 7 key factors that contribute to effective classrooms—such as high expectations and active learning. Each factor is rated on a scale of 1 to 4 (1 meaning the trait is not observed, 4 meaning it is very evident), generating objective and consistent data about strengths and weaknesses in the learning environment. School leaders use these insights to define next steps for ensuring that classroom environments nurture student engagement. This video will show you more about how eleot works.
Part of AdvancED's eProve™ continuous improvement suite, eleot is a dynamic starting point for creating data-driven action plans to improve school quality. With clear targets for improvement and concrete goals, your continuous improvement plans yield both timely and long-term results.
Watch the video to learn more about eleot and how it can support your continuous improvement efforts. If you already have access to eProve, log in to get started. Or contact AdvancED | Measured Progress to see how you can begin.