Measured Progress recently announced a partnership with MetaMetrics®, developer of the widely adopted Lexile® Framework for Reading and Quantile® Framework for Mathematics. We are really excited about being able to provide Lexile and Quantile levels on eMPower Assessments™ reports because they give students, parents, and teachers a strong sense of where students are, so they know where students can go next.
Supports the answer for "What can we do?"
When speaking with educators about eMPower assessment results and reports, we've heard repeatedly, "what do I do next, as a result of this information?" Teachers to want to know how they can incorporate personalized learning plans into their instruction. Having Lexile and Quantile levels helps them do that. Parents also want to know what they can do to help at home, to help their child continue learning and growing.
You'll find Lexile and Quantile levels on the Individual Student Report of eMPower Assessments. Here's a portion from a sample report, where you can see the levels reported in context: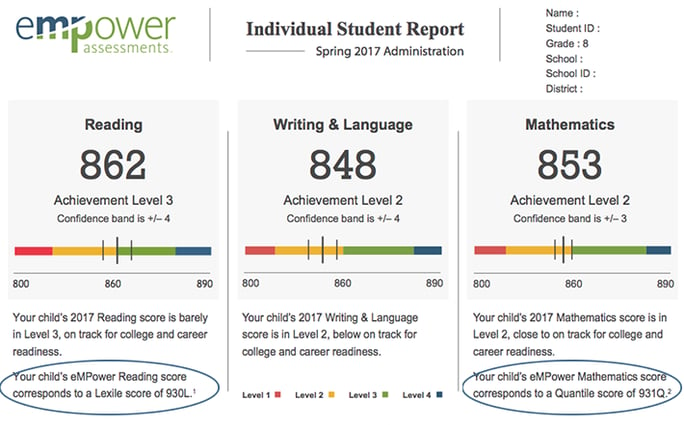 Lexile measures for reading instruction
School librarians and media specialists also often use Lexile measures to help select specific materials that challenge students just enough to help develop their reading abilities.
Lexile levels can be a great bridge from the school library to the public library during the summer months. Once a student knows her Lexile level from an eMPower report, she can ask for help to find materials from her local public library. The Find a Book web site from Metametrics connects to thousands of public libraries around the world and supports continued summer reading. This promotes continued learning and helps prevent the "summer slide".
Quantile measures for mathematics instruction
Similarly, Quantile measures help teachers target mathematics instruction for each student's specific needs. They can help teachers monitor progress by describing a student's ability to solve mathematical problems. Quantiles are not as widely known as Lexiles, but they work in a similar way. Metametrics also provides additional learning for a student to do at home and over the summer through their Summer Math Challenge, or their Math@Home web site.
Our valued partners
Measured Progress is pleased to partner with Metametrics and similar like-minded organizations such as the College Board to develop eMPower Assessments, the only interim assessment solution for grades 3–8 that gives a direct predictive connection to the SAT® Suite of Assessments. What do we mean exactly, when we say "a direct predictive connection"?
Direct: Measured Progress and the College Board performed a linking study to ensure psychometric accuracy and fidelity to the score prediction
Predictive: At grade 8, eMPower Assessments predict a student's PSAT 8/9 scores
Together with these and other partners, eMPower Assessments provide early insight into college and career readiness.