The idea that having a mentor can be a crucial factor in a young person's life is commonly accepted. But it's not always easy for young people to identify a mentor, when and where they need it.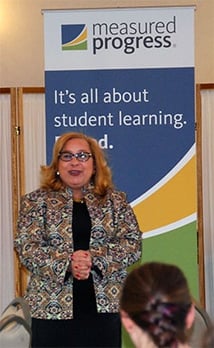 Just ask Claritza Abreu, the technology evangelist and CEO we met recently at a NH High Tech Council "TechWomen Power Breakfast" sponsored by Measured Progress. The monthly breakfast series attracts a large group of New Hampshire-based technology enthusiasts and Measured Progress staff members. In honor of Teacher Appreciation Week, we want to share Abreu's story as she shared it with us.
The power of mentorship
Abreu attributes much of her success to a high school math teacher in her native Dominican Republic. "I was shocked that someone in the world would think that I would be an engineer, because engineers are the people who build the world," explained Abreu, saying that as a young person, "I just wanted to live at the beach."
She described that interaction with her teacher as a magical moment, the first of several magical moments in which mentors helped shape her life's direction. As the first person in her family to graduate from college—with a degree in computer science and engineering—Abreu knew she would have to blaze a new trail for herself.
Her second mentor encouraged Abreu to learn a new language and culture, so she came to the United States, but could not find a job in her field. She needed a network of mentors to draw on. Resourceful and determined, she eventually became the director of IT at the Boston Department of Public Health, and eventually a chief information officer—the first Latina CIO in Commonwealth Massachusetts state government—in addition to becoming a professor, community advocate, and caregiver for 2 kids and 2 parents.
Forging connections for Latino professionals
Today, Abreu takes it all in stride. But she never forgot how difficult it was for her to find mentors and champions during her early professional years. "You just need mentors and role models to help you get where you want to go," Abreu explains. "There is a whole population of mid-career professionals that can help provide leadership for a younger generation, and want to make connections to continue to grow with established mentors themselves."
Abreu's latest venture is a way to give back to her mentors and to help bridge the gap. In 2016 she started Latinc, the first and—so far—only online network of Latino professionals. Explaining that the platform is like a cross between LinkedIn and Facebook, Abreu said it provides young Latinos access to possibilities, and provides organizations access to a Latino talent pipeline.
Abreu stressed a growth mindset as a critical component of a successful mentorship. "We have to help build that baseline self-confidence, " she explained. "You must have confidence you can learn and confidence you know how to learn."
Hats off to our teachers and mentors
Abreu's story inspires us to thank all our teachers— and share our appreciation for the powerful magic of having a good mentor.