Measured Progress is really excited about our new partnership with Activate Learning, the publisher of IQWST (Investigating & Questioning our World through Science & Technology). Activate Learning is one of the leading middle school science curricula providers in the US. Their inquiry-based approach engages students in doing science. The partnership was announced on March 31, 2016 at the National Science Teachers Association (NSTA) conference in Nashville. Since then, we've been working side-by-side on a correlation document to show how our two products, IQWST and STEM Gauge®, come together in the classroom to provide a complete solution for full NGSS* alignment.
Support for middle school science teaching, learning
Districts that use the IQWST middle school science curriculum can now make NGSS-aligned formative assessment resources available to their teachers through STEM Gauge. Using IQWST and STEM Gauge together brings your district one step closer in your transition to NGSS.
Answers a common question
When talking with district science curriculum directors about STEM Gauge, we found that district administrators really liked the topic-based item sets and individual assessment items. They got excited when they saw the STEM Gauge Teacher's Guide, full of helpful advice and formative support tools. But their teachers often requested help identifying exactly how and when to implement STEM Gauge in the context of their not-yet-100%-NGSS-aligned curriculum. Here's where our partnership with Activate Learning delivers real value for teachers.
Introducing the IQWST + STEM Gauge correlation document
Though our partnership with Activate Learning, we can now support your implementation at a more granular level. Districts that use IQWST can download the IQWST + STEM Gauge correlation to see which STEM Gauge topic-based item sets to use with each IQWST unit. For example, for the grade 6 Physical Science unit Can I Believe My Eyes?, teachers could pull assessment questions that align with content and NGSS performance expectations covered in these STEM Gauge topic sets:
Energy
Waves and Electromagnetic Radiation
Earth's Systems, and Structures
Functions and Information Processing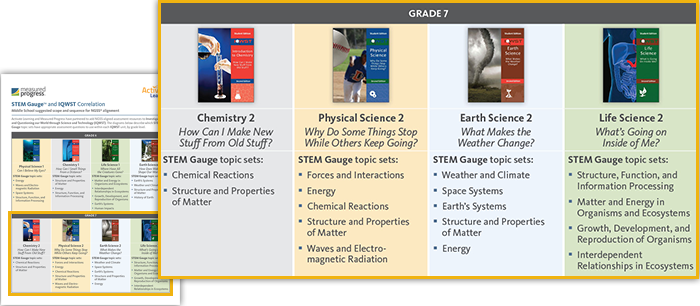 The Item Index in each STEM Gauge topic-based item set shows how each item addresses particular facets of the three NGSS dimensions.
Looking forward to what's next
Full alignment to NGSS performance expectations within a classroom or a district won't happen overnight, and neither does full integration of curriculum and assessment. These things take time and effort. But we're working as quickly as we can to have classroom learning through IQWST and the opportunities to gather evidence of learning through STEM Gauge formative assessment resources go hand-in-hand and be completely seamless. We're eager to get there.
We'd love to hear from you about how you're using STEM Gauge with IQWST, and what else we can do to support your transition to full NGSS alignment.
*Next Generation Science Standards (NGSS) is a registered trademark of Achieve. Neither Achieve nor the lead states and partners that developed the Next Generation Science Standards were involved in the production of this product, and do not endorse it.