Getting more out of mathematics assessment
Rigorous college and career readiness (CCR) standards for English language arts and mathematics, and complex science standards (such as the Next Generation Science Standards, NGSS*), sharpen educators' focus on what students should know and be able to do. In all these content areas, the standards outline complex expectations that call for integration of multiple dimensions.
This complexity requires more than applying a new set of standards codes or "cross-walking" items to the new standards. Content and assessment experts at Measured Progress recognize that these standards call for new approaches to item development and assessment design.
Plus, the assessment landscape has changed. Given today's concerns about testing time and cost, we need to take the least amount of time to provide the most information possible—to create test designs and test items that deliver strong results, fast. Educators and policy makers need timely, targeted instructional information at the district and school levels, and effective, meaningful data for decision making at all levels, including statewide.
To meet these needs, Measured Progress content development specialists created new item specifications based on the information we want to provide to states, districts, schools, teachers, students, and parents: multiple dimensions for each subject area to indicate students' strengths and needs at an actionable level. This evidence-centered design approach follows extensive research about student learning progressions and grade-level expectations, as well as detailed scrutiny of the standards. As a result, our content provides results at greater depth than other instruments.
We've created a white paper, "Assessing Today's Standards: Multi-dimensional test items," that describes our approach to multi-dimensional content development. In it you can find detailed information about our item specs for ELA, mathematics, and science, along with sample items. Here's a look at our approach to mathematics. You can also see Part 1 (English language arts) and Part 2 (science) of this series.
Mathematics: eMPower Assessments
eMPower Assessments™ give districts and states a coherent program for grades 3–8 in reading, writing and language, and mathematics, with all-new content written to CCR standards, available to administer up to three times per year. eMPower also gives early insight into college and career readiness through a direct predictive link with the score scale of the SAT® Suite of Assessments.
We probed the research behind CCR standards to inform the development of our detailed item specifications. (See also "Research Basis for eMPower Standards.")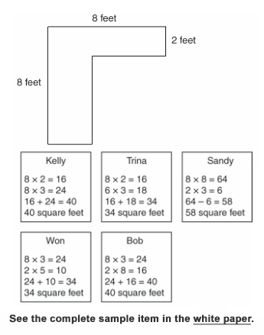 eMPower mathematics assessments break new ground by reflecting both dimensions of the college and career readiness standards in mathematics: concepts and procedures, and mathematical practices. Most math items in the assessments align to both a mathematical concept or procedure and a mathematical practice.
We've further broken down the practices into specific focus points. For example, practice 3 for grades 3–5, "Construct viable arguments and critique the reasoning of others," breaks down into two distinct focus points: construct arguments (Practice 3A), and evaluate arguments (Practice 3B). (See "eMPower Mathematics Item Specifications: Practice 3 Focus Points.")
As we develop test items, we aim for specific focus points, and also identify a particular skill or concept within a focus point. For example, the item partially shown here addresses the detailed expectation: Distinguish correct logic or reasoning from that which is flawed, and—if there is a flaw in an argument—explain what it is.
The specific mathematical practice focus points and dual coding to both concepts and procedures and to practices are unique to Measured Progress and to eMPower. By assessing specific practice focus points as well as concepts and procedures, eMPower mathematics assessments yield depth and breadth of insight.
For more information about Measured Progress products and services—contact us.
---
* NGSS is a registered trademark of Achieve. Neither Achieve nor the lead states and partners that developed the Next Generation Science Standards were involved in the production of this product, and do not endorse it.