We recently posted a piece on our Opinions page that outlines the current expectations of statewide tests, and presents a solution that includes teacher-administered measures without adding additional testing time or burden on teachers. We provide a brief summary below. Read the full article.
What should we expect from statewide tests?
In the context of the ongoing debate around testing and federal involvement, it's important to acknowledge what statewide tests are—and are not. Statewide assessment systems continue to provide accurate information for schools and districts to use to improve their instructional programs.
But despite the emphasis on deeper learning in college and career readiness curriculum standards that states have adopted, state assessments still do not do justice to these standards. Studies of the alignment between state tests and the curriculum standards on which they are based typically show that the tests inadequately assess higher-level cognitive processes.
How can we test deeper learning?
We can do this with a new approach to performance tasks as integral parts of instructional units, and a mix of item types in year-end assessments. Within units that span several days or even weeks, several performance activities could lead to student work that can be scored for summative purposes. A mix of item types that best addresses the depth and breadth of a content domain is shown in the illustration below.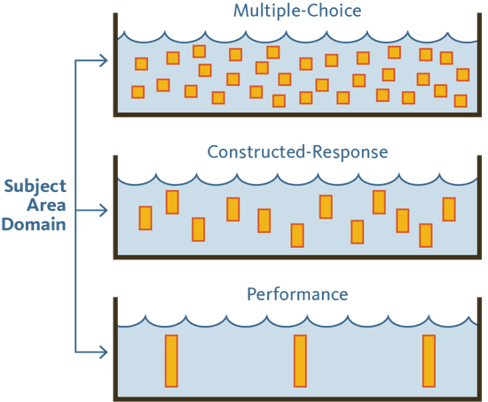 This model shows that three performance tasks administered during the year, plus an end-of-year component that has a couple of constructed-response questions and 30 or so multiple-choice items, gives us a highly reliable accountability assessment addressing both deeper learning and foundational knowledge and skills.
This two-component assessment system can cover the "right stuff"—it can measure a representative sampling of the full range of content and cognitive processes called for by college and career readiness standards.