The topic of college and career readiness is broad and deep, but a generally accepted definition of being ready for college and career is that students graduate from high school prepared to enter and succeed in postsecondary opportunities—whether college or the workforce—without the need for remediation. Others—such as these from Achieve, the Redefining Ready campaign, ACTE, the Association for Career and Technical Education, and Inflexion—include additional nuance.
Readiness indicators
Those sources and others indicate a growing consensus that America's students need to be better prepared to compete in a world that demands more than just basic skills. How do educators determine readiness? With multiple measures that provide different facets of information about a student. Readiness indicators include things like:
Academic performance (GPA, AP or IB courses, dual enrollment in college courses, co-curricular activities, etc.)
Results from the SAT

®

and other tests in high school
Data indicating student progress in elementary and middle grades
Participation in commitments outside school, such as community service and workplace learning
Demonstrated behaviors such as a growth mindset, grit, perseverance, and the ability to solve problems
Remediation required
Two sobering statistics from the Achieve organization: By 2020, 65 percent of all jobs will require postsecondary education and training. And in traditional STEM fields, 92 percent of jobs will require postsecondary education and training. Clearly, our students need to be ready for this level of academic challenge. But today, according to the U.S. Department of Education, about a third of American students require remedial education when they enter college.
Here's a visual to help make sense of that data, where the green indicates required postsecondary and the red indicates remediation required: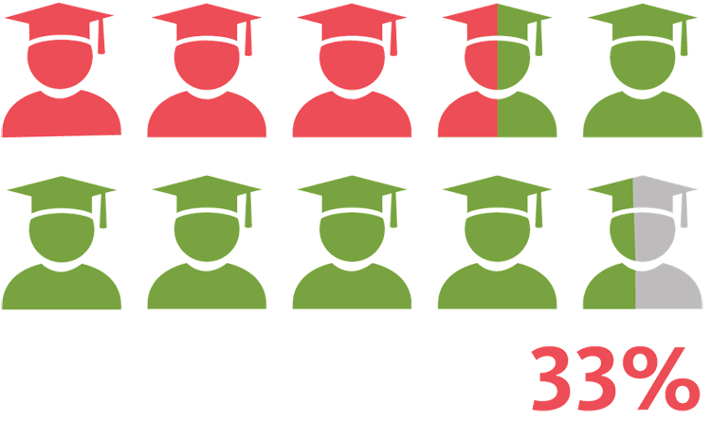 The need for remediation doesn't just slow students down. A PBS Newshour Hechinger report delves into the issue of remediation. Once students get to college, they must pay tuition to take remedial classes (and learn the material)—but remedial coursework doesn't count toward their degree. It's a big financial drain not only for the students, but for colleges and taxpayers, costing up to an estimated $7 billion a year.
Our response: Measure early
So what are K–12 educators to do? State, district, and school leaders around the country have taken on this challenge and developed new formulas to track student readiness. Here are two examples. One from the state of Georgia, the College and Career Ready Performance Index (CCRPI), and one from Pennsylvania, the Future Ready PA Index. The CCRPI is a comprehensive school improvement, accountability, and communication platform that promotes college and career readiness for public school students. Georgia has been using and refining CCRPI since 2012. Gwinnett County Public Schools provides a graphic that illustrates the components of the CCRPI. Pennsylvania has an initiative called Future Ready PA Index, which is intended as a holistic approach and dashboard for student and school success. The Pennsylvania Department of Education created a video to describe the multiple measures they intend to use.
Measured Progress staff also realized that seeing college and career readiness data before students got to high school could help. With earlier indicators, educators can spot potential hurdles for students and help them overcome them, before learning gaps compound and put students further behind. It was our desire to add these earlier readiness insights for school leaders that led to the creation of eMPower Assessments—a cohesive college and career readiness assessment program for grades 3-8.
We all want to see that remediation percentage go down. High school intervention may be too late. That's why college and career readiness measures matter for younger students. eMPower Assessments are the right tools at the right time—to support strong measurement for better learning.
Watch the webinar
Watch this recording of an Education Week webinar in which two staff members from Measured Progress talk about college and career readiness, and why current standards require not just different assessment, but better assessment.